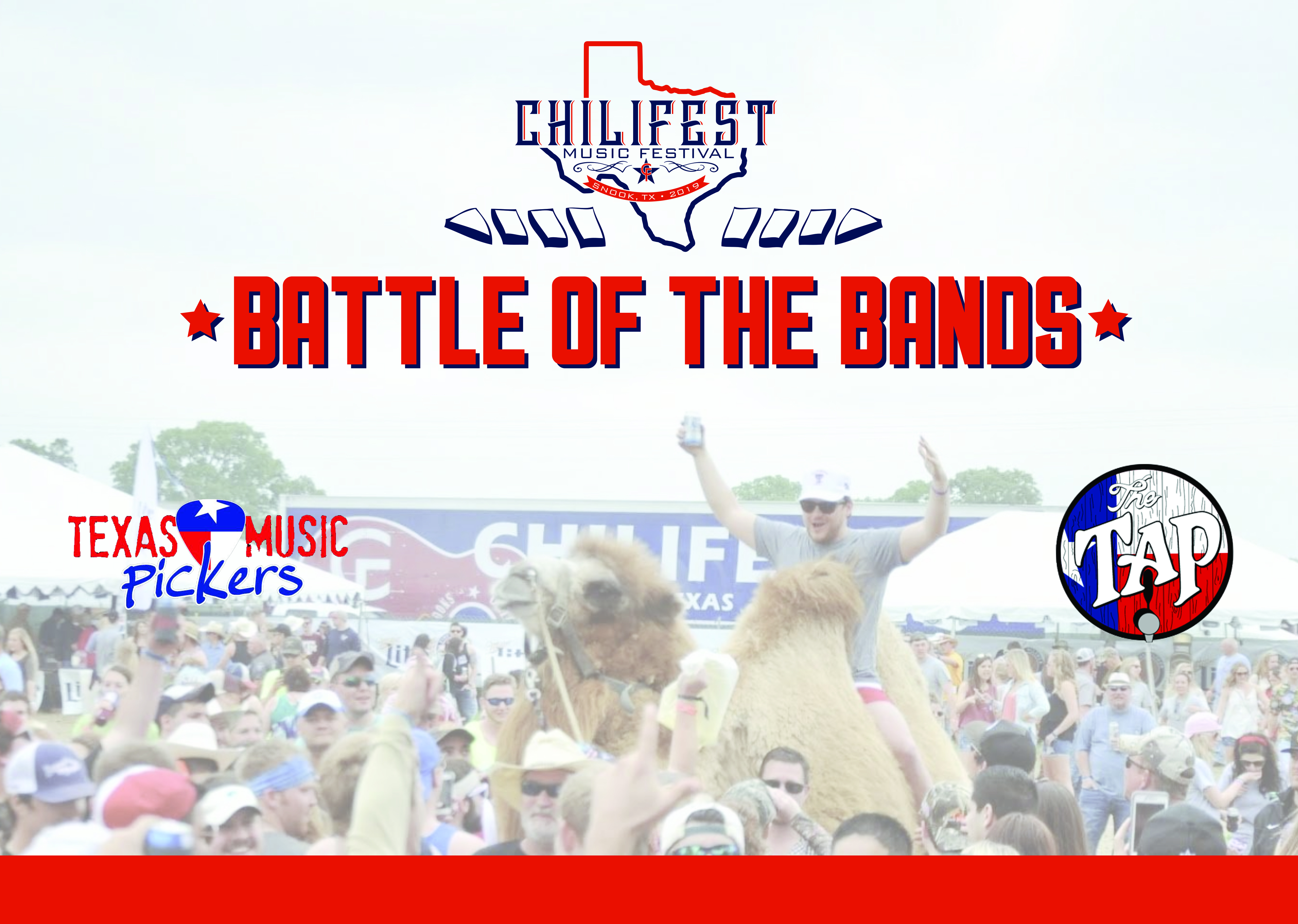 Battle Of The Bands
Chilifest Battle of the Bands is a competition for the chance to play the opening spot on Friday of Chilifest.
We are partnering with
the Tap
(the location of the contest) and
Texas Music Pickers
to put on the event. There are 6 rounds that occur every other week, and the breakdown is as follows. The first 4 rounds are preliminary rounds of 6 artists performing an acoustic set. After the first four rounds, one winner from each round, plus one wildcard winner will advance to the semi-finals on the 5th contest night and perform another acoustic set. From the semis will advance the top two winners into the finals, where they will perform with a full band.
At the end of each contest, there will be a performance by bigger name artists. Here are the dates and names of contestants/headlining artists:
PRELIMINARY: 9/11/2018
David Lewis Band
Morgan McKay
Dillan Poe
Brian Chance
Hannah Kay
Triston Coomes
Kody West (Headliner) 
PRELIMINARY: 9/25/2018
Kenna Danielle
Mason Marek
Jordan Nix & the Day Drinkers
Vanessa Lynn Bird
Drew Moreland
Ryan Wilcox
Read Southall (Headliner) 
PRELIMINARY: 10/9/2018
Damon Curtis
David Joel
Giovannie and The Hired Guns
Parker Twomey
Joey Greer
Mike Ryan (Headliner) 
PRELIMINARY: 10/23/2018
The Barrens
Hill Country Revival
Hayden Baker
Canaan Bryce
Jon Young
John Hord Band
Randall King/Josh Ward (Headliner) 
Semi-Final: 11/6 – Shane Smith (acoustic)
(The 4 preliminary winners + 1 wildcard)
Final:  11/29 – Shotgun Rider
(The top 2 winners from the semifinal will perform full band.)